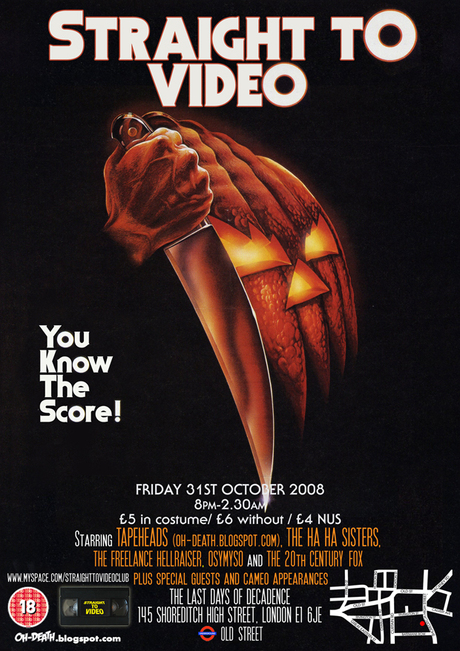 Straight To Video were invited to take over Rob Da Bank's Radio 1 show for a cinematic Halloween special in October 2008.
The 20th Century Fox was in New York, so the genius that is Osymyso stepped in to keep The Freelance Hellraiser company at Radio 1 Towers.
Enjoy...and don't have nightmares.
Straight To Video :: You Know The Score
TRACKLISTING:
1. 1 Million Years B.C Suite – "Hammer" The Studio That Dripped Blood
2. Thriller – Henry Mancini
3. Thriller monologue re-interpreted by Claire Sturgess
4. Tenebre/STV edit – Goblin
5. This Is Halloween/STV edit – The Nightmare Before Christmas
6. Dracula Main Theme - "Hammer" The Studio That Dripped Blood
7. Ghostbusters Main Title Theme/STV edit – Elmer Bernstein
8. The Omen Main Theme
9. Forbidden Planet
10. Shaun Of The Dead - Dialogue vs. Zombi – Goblin vs. Zombie Nation – Kernkraft 400/STV edit
11. Night On Disco Mountain (from Saturday Night Fever)/STV edit – David Shire
12. Stress (Auto Remix)* – Justice
13. Flash's Theme/Battle Theme (from Flash Gordon)/STV edit – Queen
14. Hellraiser (from Hellraiser II – Hellbound) – Motorhead
15. A Nightmare On My Street – Jazzy Jeff & The Fresh Prince
16. Amityville – Lovebug Starski
17. Theme From King Kong – Lalo Schifrin
18. Jaws – John Williams
19. The Bank Robbery (from Escape From New York) – John Carpenter
20. Magic (from Ghostbusters) – Mick Smiley
21. Ghostbusters (Instrumental Version) – Ray Parker Jnr.
22. Verdi's Requiem – Michele Crider
23. Escape From SK – Dada Hack
24. Figment – Dawn Of The Dead
25. Feed Me (Git It)/STV edit – Little Shop Of Horrors
26. Cry Little Sister (Theme From The Lost Boys) – Gerard McMann
27. King Kong vs. Godzilla Main Title acapella/STV edit – Akira Ifukube
28. Claustrophoby (from Body Double) – Pino Donaggio
29. Satan (from Spawn) – Orbital & Kirk Hammet
30. Max (from Cape Fear) – Elmer Bernstein
31. Kick The P.A. (from Spawn) – Korn & The Dust Brothers
32. People Are Strange – Echo & The Bunnymen
33. Searching For Rowan – The Wicker Man
34. Appointment With The Wicker Man – The Wicker Man
35. Maypole – The Wicker Man
36. Halloween TV Commercial (Halloween III soundtrack) – John Carpenter
37. Halloween – John Carpenter (Varése Sarabande)
38. Halloween/STV edit – John Carpenter (Varése Sarabande)
39. Electronic Stingers: Synth #4/STV edit (from The Howling) – Pino Donaggio
40. Flashing – Goblin
41. Goblin City (Holy Ghost! Disco Dub) – Panthers
42. Ghost Dancer (Hey Convict! Rebirth) – Addrisi Brothers
43. Ghost Song (from Virgin Suicides) – Air
44. Bond 77 (from The Spy Who Loved Me)/STV edit – Marvin Hamlisch
45. Taken (The Long Good Friday)/STV edit – Francis Monkman
46. Love On A Real Train (from Risky Business)/STV edit – Tangerine Dream
47. She's Just Killing Me (from From Dusk Till Dawn) – ZZ Top
48. Do The Hippogriff (from Harry Potter And The Goblet Of Fire) – Jarvis Cocker, Jonny Greenwood, Phil Selway, Steve Mackay, Jason Buckle and Steve Clayton
* contains sample from Night On Disco Mountain